Keenan Honda Supports March of Dimes
Keenan Honda Supports March of Dimes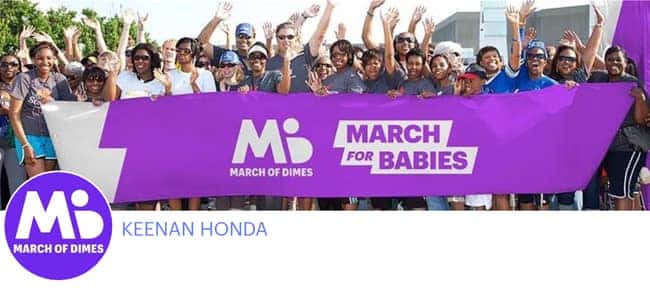 Sunday, April 28, 2019 at the Bucks County Community College/Tyler Park in Newtown, PA.
Every day, thousands of babies are born too soon, too small and often very sick. We can something about this. The mission of March of Dimes is to improve the health of babies by preventing birth defects, premature birth and infant mortality.
Join us on Sunday, April 28, 2019 at Bucks County Community C01ollege/Tyler State Park in Newtown, PA for the annual March of Dimes March for Babies! It's a pet-friendly walk, so be sure to bring your four-legged friends!
Funds raised in March for Babies support research and programs that help moms-to-be have full-term pregnancies and babies have healthy lives. Click here to join team Keenan Honda or donate money to our Team! Thank you in advance for helping us help give all babies a healthy start!