Future Home of Keenan Honda

Future Home of Keenan Honda
The scenery at 4311 West Swamp Road is going to continue to evolve dramatically over the next few months. The construction that will transform our previous Keenan Motors Mercedes-Benz dealership into a beautiful Keenan Honda dealership is well under way. Our Honda customers will soon enjoy a gorgeous indoor two-lane service drive, spacious and comfortable customer lounge, beautiful showroom floor and much more. We will also continue to host philanthropic and educational events in our service drive as our way of giving back to the local Doylestown community. As anyone who has driven by has probably noticed, the facade of the "old Mercedes-Benz" dealership has been significantly stripped down to make way for the new face of Keenan Honda.
The exterior demolition phase has been completed, and the construction phase has begun. The rounded columns have been stripped and fitted with new square column design steel framing. The outside has been cleaned and prepped for painting. The top of the building is being prepared for updated roofing material that will complement the new Keenan Honda facade.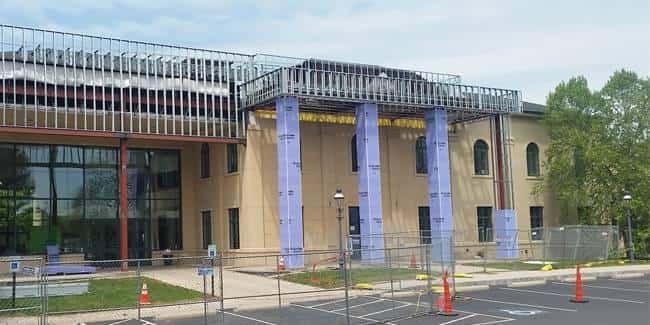 Inside, demolition of the showroom, service department offices and customer lounge have commenced to make way for a sleek,  ultra-modern interior. We look forward to offering our customers all of the fantastic amenities our new Keenan Honda dealership will offer. We will be sure to continue to keep you posted with the construction progress!