Doylestown 5k Race and Mile Fun Run 2019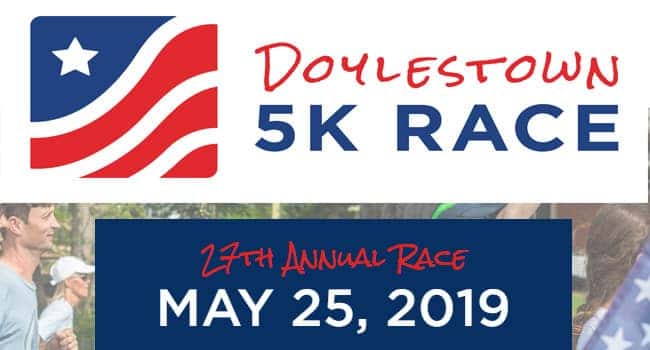 We are proud to be a sponsor of this iconic Doylestown Memorial Day tradition! The 27th Annnual Doylestown 5K Race and Mile Fun Run will take place Saturday May 25th. The 5K participants will run a challenging USATF certified course which takes runners on an out and back loop throughout beautiful historic Doylestown. There is also a less intensive 1-Mile Fun Run that will occur 30 minutes prior to the 5K (great for kids)!
Proceeds of the Doylestown 5K benefit Our Lady of Mt. Carmel School and Discover Doylestown. Stay after the race for the awards ceremony and post-race block party on State Street! Special events after the race include live music, food trucks, a Tie-Dye Station, Moonbounce, Firefighter Challenge and more!
Online registration is available through May 21st. If you miss the 5k online registration deadline you can register Friday, May 24th at Our Lady of Mount Carmel from 5-7pm or on Race Day from 7-9:15 a.m. (same applies to the 1 Mile Fun Fun). For more information, please visit the Doylestown 5k website.